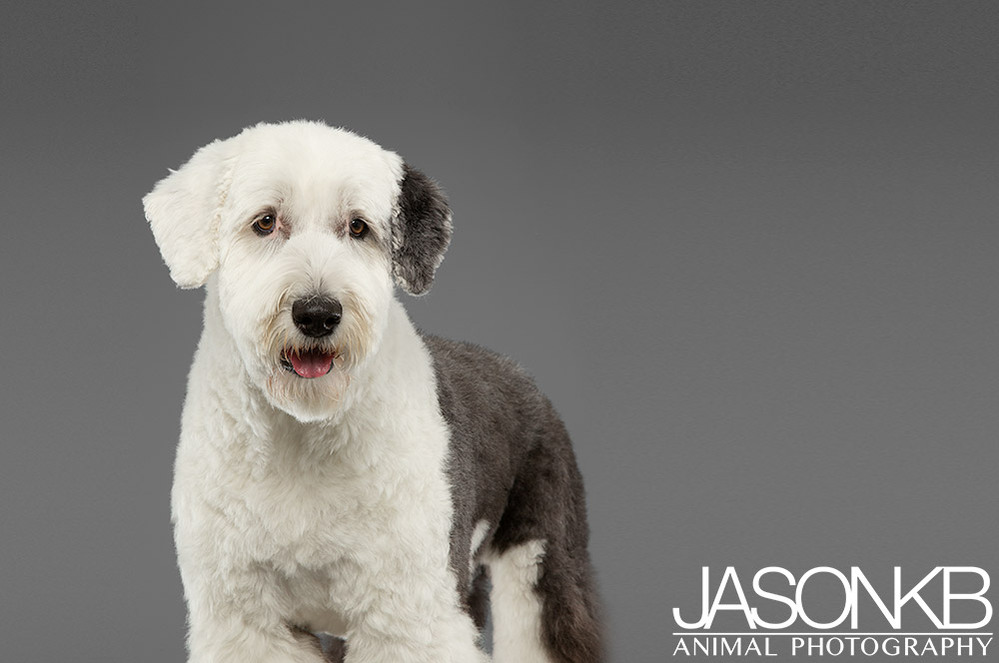 At Jason KB Animal Photography, we love learning about new pet shops opening up around Toronto. When The Dog Bowl opened up in late 2011, it quickly became one of our favourites. Located on Dundas Street just north of Trinity Bellwoods Park, they carry natural and eco-friendly products that are made as close to home as possible. Since we're familiar with the shop and owner Jason, we were really enthusiastic about doing a shoot with their resident pooch Jamie. Jason was looking to have some photos taken to hang on the walls of the store to add to its modern boutique atmosphere. Mission accepted!
We met for a consultation to learn more about Jason's vision for his artworks and Jamie's unique personality. It became clear that Jamie is an exemplary Old English Sheepdog. Traditionally, this breed is loyal, loving, and friendly. They are able to adjust well to different conditions and are highly intelligent. Sound like the makings of a great Dog Bowl canine employee! Jamie is a particularly sweet and playful girl with a curious disposition so we needed to make sure this came across in her photos. We agreed that her interesting fur pattern and precious face should also be emphasized.
Jamie is used to being around people, as she interacts with customers every day, so throughout the photoshoot she was very easy going. As you can imagine, Jamie gets to sample the newest and most delicious snacks that Jason adds to The Dog Bowl's line of curated products. She has become somewhat of a treat connoisseur and decided to bring along pumpkin cookies - one of her favourites! This was definitely incentive for the pup to put on a show for the camera and let that winning personality shine.
After careful image selection and an ordering session at our studio just down the road from The Dog Bowl, Jason chose two photographs to be made into artworks. The first is a 30" x 40" metal print with a black flush mount frame that you can see hanging in the front window of the store. Even when Jamie has taken the day off, this calm and friendly portrait welcomes customers who enter the store. The other is a 20" x 40" floating metal print. The long shape of this piece emphasizes Jamie's movement and the shape of her body. Not to mention that beautiful white and grey coat that you can't help but want to dig your face into for a good cuddle session. Both images are enjoyed by customers and Jamie has given them her stamp of approval. In the end, Jason was really pleased with the pieces, and we're glad that we were able to work with a local business that we support.
You can check out both of these pieces the next time you're passing by The Dog Bowl, and be sure to pop in and say "Hello!" to Jamie! Woof woof.