Jason Krygier-Baum - Animal Photographer
For as long as I can remember I've always been fascinated by animals. I grew up in a house nicknamed 'The Zoo' for its abundance of furry, scaly, and feathered family members. I studied animal behavior at the University of Toronto, learning everything from the evolution of bird mating dances to the genetics of social insects. When I decided to pursue a career in photography I followed my passion and specialized in working with animals.
I live and work in Toronto Canada along with my studio dog Ella, my cats Walter and Hazel, and Stanley, the friendliest snake you'll ever meet.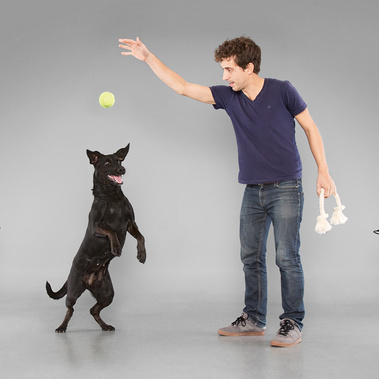 Angus McAuslan - Animal Trainer, Studio Manger, Producer
Angus is quite literally the oil that keeps my studio running smoothly. We met at the University of Toronto when he was working on his degree in Zoology. After completing a masters degree in Forest Conservation he came on full time as the manager of my photography studio. He produces all of my commercial photography shoots and consults with clients on choosing the best animals to meet their creative goals. He's also in charge of all of the animal handling on my pet photography shoots.
Angus' training techniques are grounded in the latest positive-reinforcement methodologies. He can convince even the most timid animals to smile for my camera.