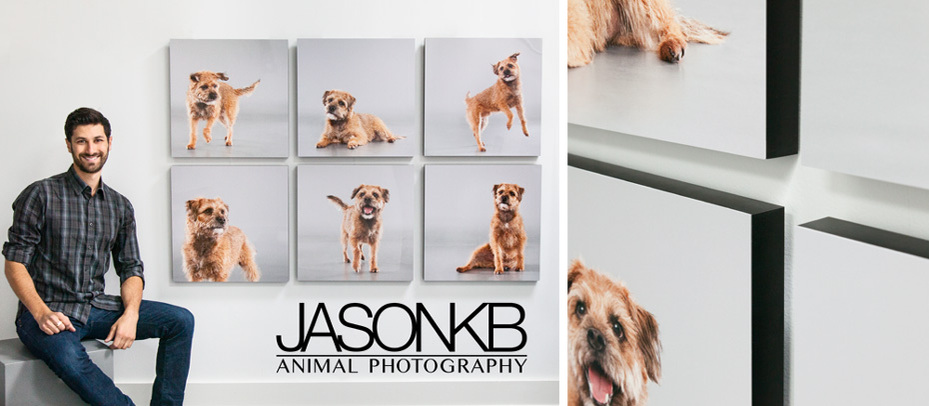 Every year around this time we see an increase in clients looking for Christmas gift ideas. Last year, we had Melanie approach us with a vision for a Christmas gift for her husband. Their three year old Border terrier Easy holds a special place in the couple's heart and she thought some photographs of him would be the perfect addition to their home, and a great surprise for her husband.
We traveled to the Bay-view and York mills area in north Toronto for a consultation with Melanie in her beautiful home. She and her interior designer created a contemporary space with a mid-century twist. It was warm and inviting, and we were promptly greeted by Easy. It's always interesting to get a first impression of a client's pet. We could see right off the bat that Easy is very playful and friendly. We sat down with Melanie and she gave us some more information about her dog; he's intense and determined, but loves bouncing around and making funny facial expressions. She decided that she'd want to focus on Easy's fun loving personality and that is the side of her pet that we would really focus on when photographing him.
After the consultation, we sat down and discussed how we would best be able to encapsulate this little dog's big personality. Melanie told us that Easy loves food, chewing on things, and chasing things about. It was clear that we had to bring out our squeaky stuffed animal toys to really capture the friendly and energetic side of Easy. Sometimes our clients approach us and have little to no idea of what they want, only that they love their pet and want to hold on to their unique personality through photography. Melanie knew what she wanted and that her and her husband would hang Easy's artworks in a prominent location in one of their stairways. After the photoshoot Melanie surprised her husband on Christmas morning, and a few weeks later came in with their interior designer for an ordering session.
We were so excited to show Melanie the photographs we had captured on our big screen projector, and discuss printing and framing options in our ordering session. Melanie, her husband, and their interior designer were immediately drawn to having these photographs as metal prints with black flush mount frames. We agreed that six 20" x 20" photographs would fit perfectly in their space and add a unique touch to an already stunning home. We had a great time helping Melanie carry out this surprise for her husband and we're glad we could add a timeless and sentimental arrangement of art to their home.