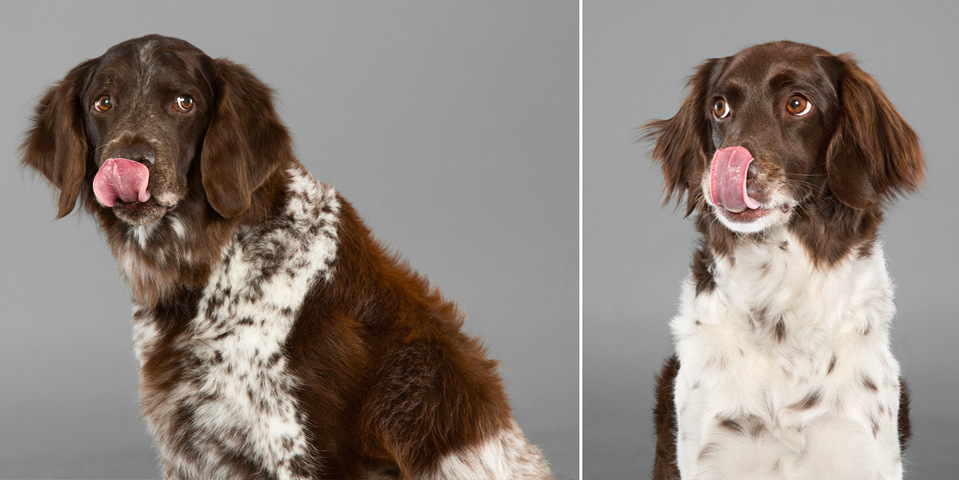 Earlier this year we received a call from Linda who was eager to have photos taken of her two Münsterländer dogs Roxy and Carli. This German hunting-pointing-retrieving dog breed is very intelligent, trainable, and attentive. They love hunting and being active, and are happy and affectionate in family settings. Linda had heard about Jason KB Animal Photography through a friend and neighbour who had recently commissioned portraits from us, and was eager to get started as Roxy was getting older and recovering from chemotherapy. In the most hopeful way, Linda approached us wanting to capture the dogs' individual personalities, their special relationship with one another, and the place they hold in Linda's family's heart.
When we met with Linda for her consultation at her Lawrence Park home in Toronto we were surprised at how energetic 12 year old Roxy was. She is a crowd pleaser and able to put a smile on anyone's face. Roxy is a very active dog and her absolute favourite activity is playing with soccer balls - we even heard that she helped train one of Linda's daughters to become a competitive player! Carli is very active as well but decidedly more mischievous. She loves getting herself into trouble and uses her smarts to try to always get what she wants. One of Carli's funniest tricks is stealing socks from laundry hampers and delivering them to people. Carli happily brought us several pairs of socks throughout the in-home consultation. We couldn't stop laughing!
Approaching the photo shoot we knew that with such active dogs we would have to use our collection of toys. During the photoshoot Linda was almost brought to tears at how energetic Roxy was when we got her going with a soccer ball. At the end of the shoot we even broke out a pair of socks for Carli to play with. The two sisters were alert and provided Jason with great movement for the perfect photographs to achieve Linda's vision for her artworks.
Linda returned for her ordering session and brought along her husband to decide on their final artworks. During the slideshow of photographs Linda was thrilled with how we had captured the spirit of her dogs. The pair decided on a triptych of two 20" x 20" and one 20" x 30" metal prints with black flush mount frames. These would be a great modern touch to their newly renovated cottage in Muskoka, Ontario. Linda also chose an array of photographs for a session album. Since we had captured such a wide range of poses, we were able to include some more goofy and funny images in the album, with socks and soccer balls of course.
We returned to Linda's home a few weeks ago to deliver her artworks, and were happily surprised to see that Roxy was doing well, still playing with Carli and continuing to bring happiness to the family. Our art pieces of Roxy and Carli will be a vivid reminder of the true essence of these beautiful dogs and the special place they hold in the hearts of this family.